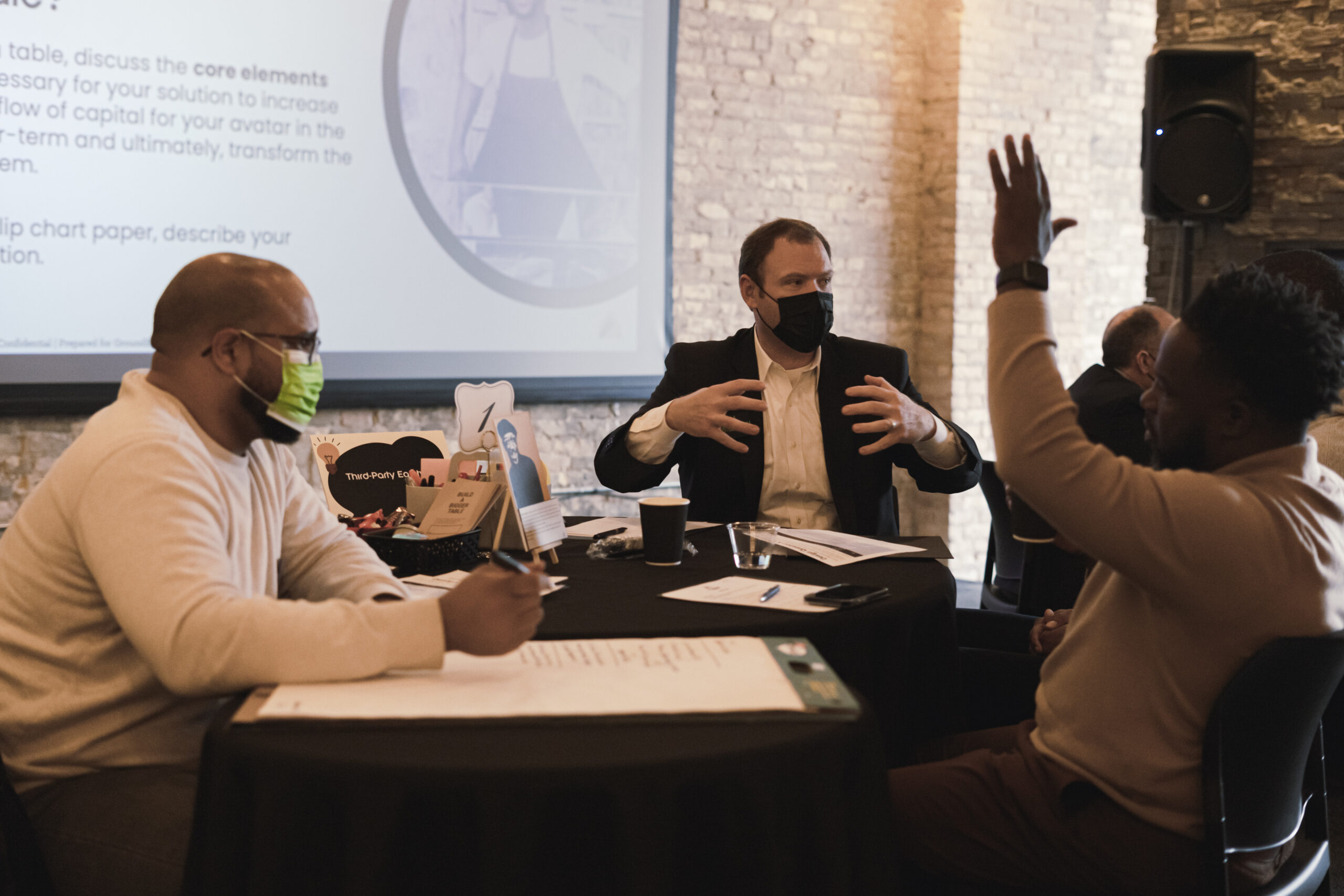 Commercial Development work group members at design sprint. Credit: Awa Mally
Last May, GroundBreak launched with an ambitious, and necessary goal to create a future for the Minneapolis St. Paul region that is dramatically more inclusive, just, racially equitable, and climate ready. To get there, over 40 leaders from private, public, and philanthropic institutions committed to a long-term, collaborative effort to fundamentally change how capital flows to build sustainable Black wealth in the Greater MSP region. More than 170 individuals from over 120 organizations got to work developing solutions that would collectively bust down the barriers keeping too many people of color from owning homes, starting a business, or building generational wealth. Learn more about GroundBreak's work group design sprint process and our strategy to build BIPOC wealth, using a targeted universalist approach focused on Black wealth builders.
GroundBreak is at an exciting inflection point, and the months ahead will be pivotal for bringing its vision into reality. Below I highlight three important developments that show where we are now and where we are going.
1.

Nine "capital prototypes" can enable unprecedented Black wealth building.
The coalition's work groups recommended nine capital prototypes that, if fully enacted, would result in dramatically increased, streamlined, and more equitable flows of private or "mainstream" capital to Black households and communities in MSP. Ultimately, this would lead to unprecedented progress in closing MSP's staggering racial wealth gaps by enabling the same type of transactions to happen repeatedly. This approach means results would compound overtime, and gaps would dramatically narrow. Below is a summary of the work groups' capital recommendations.
Work Group Capital Prototype Recommendations
HOMEOWNERSHIP
First mortgage targeted for households at >50% AMI
Homebuyer financial assistance to address loan-to-value (1/2 forgivable; 1/2 repayable loan)
Homeowner preservation forgivable loan
COMMERCIAL DEVELOPMENT
Senior debt for 60% of costs with guarantee
Junior debt for 35% of costs (funded with patient, low-cost capital and guarantee)
Developer equity enhancement of up to 2%
BIPOC ENTREPRENEURSHIP
Start-up friends and family forgivable loan
Early-stage small business loan ($50,000-$250,000) with guarantee
Growth-stage commercial loan ($250,000-$1 million) with guarantee
RENTAL HOUSING
Very limited role for private capital for renters <40% AMI
Exploring streamlining of process and maximization of patient, low-cost capital
Exploring innovations for enabling affordable rental housing to build wealth
These prototypes generally rely on three levers:
Maximizing the amount of plentiful, mainstream capital
Reducing perceived risk of investments through credit enhancements and/or guarantees
Blending lower cost and mainstream capital to achieve affordability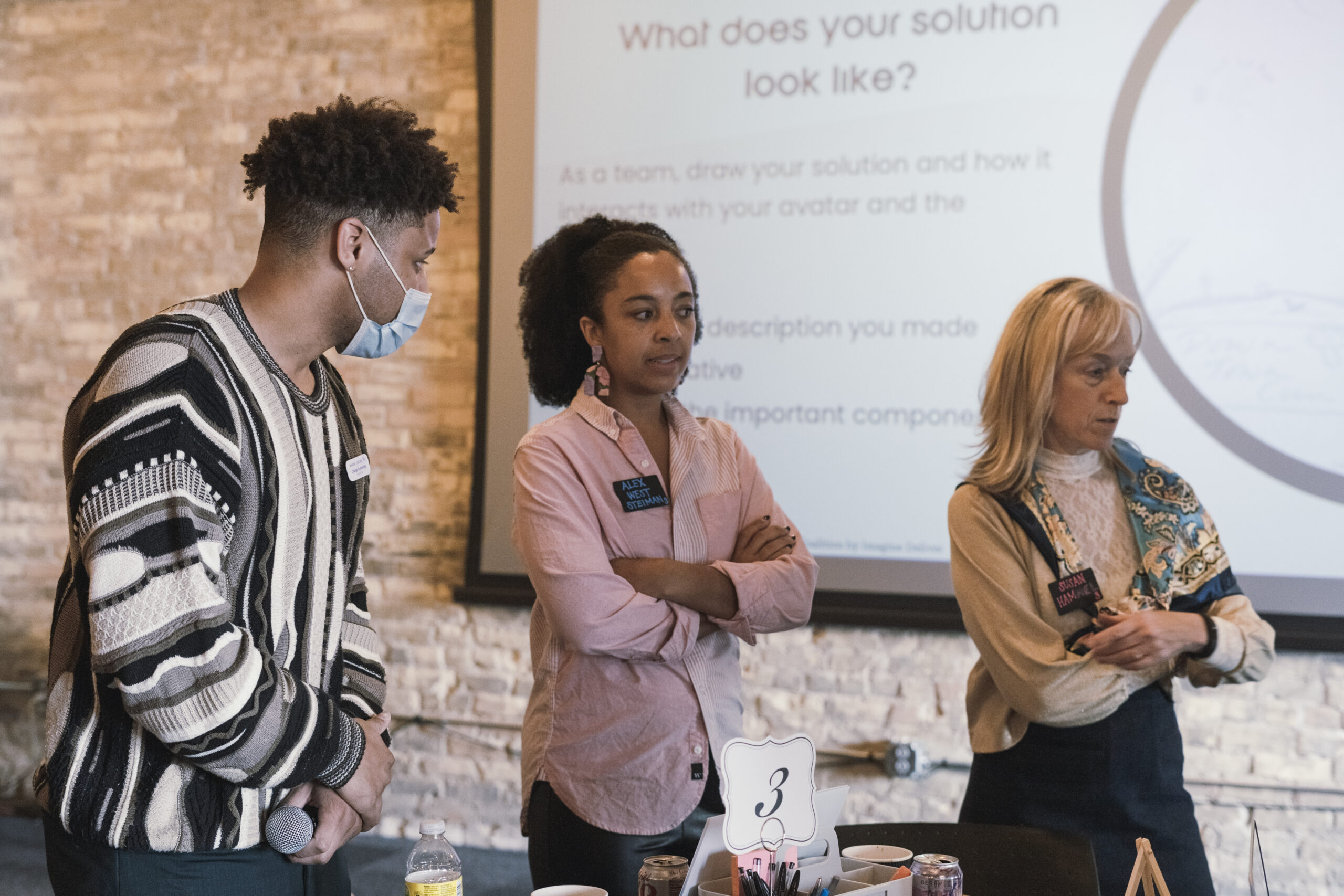 BIPOC Entrepreneurship work group connects at design sprint. Credit: Awa Mally
2.

By working together to create a shared capital platform, regional leaders can scale impact and attract national investments to Minneapolis-St. Paul.
Most importantly, the work group process revealed that there are essentially four tools that financial institutions, corporations, private investors, governments and philanthropists can use to pull these levers, and that if MSP can create a shared, regional financial platform that enables the easy use of those tools, we can both rapidly scale the deployment of all the work groups recommendations (and other innovative products) and more readily attract national investment.
A shared capital platform for the Greater MSP region would consist of:
A collectively adopted special purpose credit program among participating financial institutions, which would allow them to offer products to members of specific populations who meet eligibility criteria).
A shared mechanism for offering credit enhancements or guarantees, inspired by the successful, national Community Investment Guarantee Pool and emerging regional facility in Kansas City, Missouri.
Clear avenues for providing predictable and efficient one-time strategic investments or grants.
A vehicle for providing low-cost, patient capital, inspired by Benefit Chicago and other place-based, evergreen facilities.
Although elements of this platform exist in several places, no region has effectively structured and coordinated all four of them for maximum impact. Early GroundBreak estimates suggest that $1.3 billion in non-traditional investments via the platform would unlock $4.3 billion in mainstream capital investments in Minneapolis-St. Paul.
The graphic below demonstrates how the shared regional platform would activate the work groups' proposed prototypes.
Interdependence of Prototypes & Shared Platform
3.

Now is the time to engage and help move this crucial work forward.
The GroundBreak staff team is sharing this thinking with the steering committee and supporting coalition members in adapting, adopting, and preparing to activate the recommendations. We are grateful for the work groups and subject matter experts who led us this far and are eager to start the next phase of GroundBreak's work.
Questions and input are always welcome at info@groundbreakcoalition.org. Join us for our next monthly update call on April 12 at 1 p.m. CT, and the second Wednesday of every month. You can also click here to sign up to receive our monthly newsletter and other communications.