In November, the GroundBreak Coalition caught its collective breath after the October "design sprints," where work group members brainstormed innovative capital investment pathways that could close racial gaps in income and wealth. Those pathways are being developed into more finished "prototypes" to be reviewed by work groups in December before being presented to the GroundBreak steering committee in late January. Also this month, 2023 GroundBreak strategic planning began as the Coalition envisions the next steps toward funding and implementation of the capital prototypes that emerge from the work groups.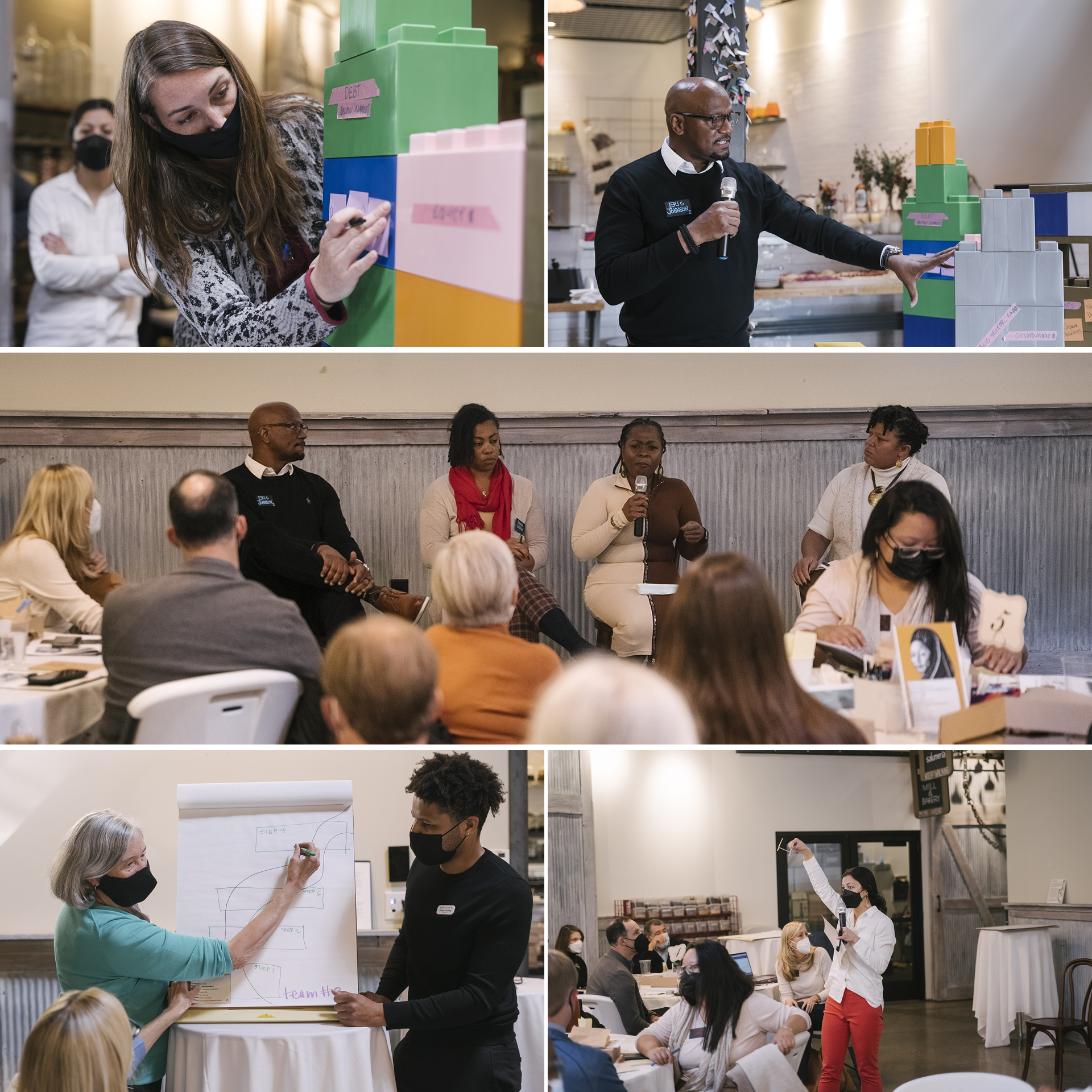 Rental Housing work group members dig in at design sprint in October. Credit: Awa Mally
The products that emerged from recent work group meetings will be a key foundation to the eventual capital prototypes. In these sessions, work group members divided into groups and designed solutions for specific hypothetical end users including a Black homeowner, renter, entrepreneur, or commercial developer. Work groups brough both technical expertise and lived experience to the design sprints. Themes that emerged are detailed below.
  Rental Housing
Streamlined funding with new funding streams: Working groups proposed solutions that would facilitate transformational alignment between lenders and public/private funders to reduce costs, time to completion, and uncertainty. They also proposed an array of evergreen funding streams to maximize production from existing resources.
Focus on Black renter wealth and other less restrictive supports: Workgroup members dreamed of solutions that would allow Black renters to build wealth while renting and having access to a range of needs beyond housing, such as healthcare, childcare, eldercare, and job training.
Innovatively addressing deep affordability: Working groups ideated on innovative ways to raise and target capital to address deep affordability, from Pay for Success-like guaranteed rental income bonds and tax credit programs.
  Homeownership
Programming that supports affordable homeownership: These programs included initiatives such as down payment assistance, home repair funds, below-market interest rates, and short-term forgivable loans.
Leverage existing resources for program sustainability: Teams designed solutions that leveraged different types of funders and layered capital to fill gaps and accommodate for various processing speeds and funding restrictions across different financing mechanisms.
Collaboration between lenders and funders to streamline processes: Teams recognized that there are trusted local and state programs meant to support prospective homeowners, but the rollout of these programs tends to be a disjointed experience for borrowers. Teams envision a network of lenders that support each other to fill the gaps in services experienced by some prospective homeowner to systematize home purchasing across the board for prospective homeowners.
  Commercial Development
Collaboration across sectors unlocks more funding: Teams imagine leveraging different types of funders to unlock a range of funding types in varying amounts. CDFIs, banks, governmental entities, philanthropies, corporations, and individual angel investors can work together to pool or layer their capital for developers.
Create pathways to self-sustaining funding: Teams designed solutions in which pooled resources for developers could be leveraged against the secondary market to build equity. They would then reinvest this equity into the developers' fund to help sustain and grow the fund.
Reinvest locally through community ownership: Teams emphasized the importance not only of creating wealth-building opportunities for Black developers, but also enriching the local BIPOC community. These solutions would split equity gained from capital between sustaining the original fund and financing additional nondevelopment-related resources for the local community.
  Entrepreneurship
Collaborative funding across sectors to bridge the financing gap for entrepreneurs: Teams created solutions where funders across sectors could unlock different types of capital. Teams pooled or layered funding sources from CDFIs, government, philanthropies, individuals, and large corporations in service of entrepreneurial expenses. These funds would be especially impactful for startups and early-stage businesses.
Funding with flexible terms prioritizes choice and autonomy for entrepreneurs: Teams designed solutions with flexible funding and less restrictive eligibility requirements, which would allow entrepreneurs to choose which financial package is right for the type of business they own.
Streamline processes to accelerate resource deployment: Many teams designed solutions with an expedited approval process for their end users. To help with the decision-making process, teams designed solutions with mechanisms that allowed for a common application across resources and sectors. This application would make the deployment of resources quick and easy for entrepreneurs to access.
Design Sprint Process & Outcomes Video