The Minneapolis-St. Paul region has an unprecedented opportunity to lead the nation in committing the resources necessary to achieve racial and economic justice.
Our regional crises of racial and economic injustice were simmering long before the pandemic and the killing of George Floyd brought them to a boil. It's no secret that the economic gulf between Black and white families is higher here than nearly anywhere else in America. Then George Floyd's murder in Minneapolis sparked a global racial reckoning and the resulting uprisings coincided with damage and destruction along commercial and cultural corridors in Minneapolis and St. Paul.
At the same, time the pandemic has caused disproportionate harm to BIPOC communities, and community members have struggled to raise the alarm about the rapid escalation of climate change and its unequal burden on these same communities.
And yet these great challenges have led to visionary leadership from many quarters. Our region has come together to restore, rebuild and, most importantly, reimagine the future of our community.
We envision a future that is dramatically more inclusive, just, racially equitable, and climate-ready.
With this vision to guide us – and with the nation's eyes on MSP – we have a once-in-a-lifetime opportunity to define a new paradigm for community development finance that finally addresses systemic racism; rights historical wrongs; closes racial gaps in income and wealth; and boldly meets the climate moment.
We aim to lead the nation by investing in transformational solutions that work:
CREATE
45,000 new BIPOC homeowners
STABILIZE
families in 23,500 affordable rental units
COMPLETE
30 community-led, climate-ready, transformational commercial developments
LAUNCH
more than 11,000 BIPOC-owned businesses with at least 20 percent employing 5+ people
We can't get there alone. But we know that we can marshal capital commensurate with the scale of the need if a visionary group of local and national lenders, investors, government entities, and grantmakers commits to doing so.
GroundBreak Coalition is a group of over 40 corporate, civic, and philanthropic leaders committed to demonstrating that with enough resources, a racially equitable and carbon-neutral future is possible now – first in Minneapolis-St. Paul and then across the country.
Recent regional analyses tell us that $2 billion of flexible private, public, and philanthropic capital, coupled with collective, courageous leadership, will enable us to disrupt the status quo, close long-standing racial disparities, and transform communities. Wherever possible, we aim to lift up existing, community-led solutions and provide momentum to accelerate their adoption or scale.
We will deploy this capital in four areas:
Homeownership
Rental Housing
Commercial Development
BIPOC Entrepreneurship
GroundBreak Coalition is building a platform to mobilize and aggregate capital to achieve racial equity and climate readiness. We will provide pathways for corporations, financial institutions, government, philanthropy, and even individuals to equitably and efficiently invest in MSP – making good on the commitments to racial equity and carbon neutrality that so many have made in recent years. 
We are launching a 12-month process to co-create investment pathways to achieve our goals. Workgroups focused on each of GroundBreak's areas will move together through three phases:
Discover
Scan the landscape for: 1) opportunities to optimize existing solutions by bringing them to scale and 2) spaces for innovation where current systems and products fall short.
Design
Build or broker capital pathways and financial products to achieve GroundBreak's goals.
Deliver
A final set of investment pathways and products aligned with GroundBreak's transformative goals that participating institutions are prepared to finance through loans, loan guarantees, equity, grants, and combinations thereof.
Over the next decade, local GroundBreak leaders will maintain momentum, ensuring sufficient local capacity to absorb and deploy capital, addressing policy barriers and opportunities, and measuring progress toward results.
Working Groups
Working groups flow from and report to the steering committee. They are responsible for driving progress towards their assigned outcomes (rental housing, homeownership, commercial development, BIPOC entrepreneurship) by:
Identifying capital products and investment opportunities pathways that optimize existing structures and innovate new ones where what currently exists either doesn't meet the needs of or actively impedes achieving assigned results;
Ensuring that MSP has an institutional and organizational ecosystem with the capacity to absorb and effectively and equitably deploy capital at the necessary scale;
Addressing policy barriers, practices and opportunities that will either frustrate or enable the attraction, absorption, and deployment of capital in service of these results; and
Tracking progress toward results and recommending course corrections based on learning and experience.
 Homeownership
CO-CHAIRS
Fmr. Cmmsr. Chris Latondresse
Hennepin County
Dondi Edwards
Wells Fargo
---
STAFF
Ben Hecht
McKnight Senior Advisor

Julia Welles Ayres
Hennepin County
Julie Gugin
MN Home Ownership Center
Brooke Walker
MN Home Ownership Center
Johnna White  Strategy Partner Imagine Deliver

Malik Mitchell  Strategy Partner Imagine Deliver
Rental Housing
CO-CHAIRS
Cmmsr. Jennifer Ho
Minnesota Housing Finance Agency
Kate Kelly
PNC Bank
---
STAFF
Ben Hecht
McKnight Senior Advisor 
Will Delaney
Hope Community
Shannon Smith Jones
Hope Community
Johnna White  Strategy Partner Imagine Deliver

Malik Mitchell  Strategy Partner Imagine Deliver
Commercial Development
CO-CHAIRS
Dorothy Bridges
US Bank
David Reiling
Sunrise Banks
Jim Mulrooney
Bremer Bank
---
STAFF
Ben Hecht
McKnight Senior Advisor 

D'Angelos Svenkeson
NEOO PArtners Inc.
Cameran Bailey
NEOO PArtners Inc.
Johnna White  Strategy Partner Imagine Deliver

Malik Mitchell  Strategy Partner Imagine Deliver
BIPOC Entrepreneurship
CO-CHAIRS
Fmr. Cmmsr. Steve Grove
MN DEED
Ravi Norman
Norman Global Enterprises
Greg Cunningham
US Bank
---
STAFF
Ben Hecht
McKnight Senior Advisor 

Alex West Steinman
The Coven
Lyneir Richardson
The Center for Urban Entrepreneurship and Economic Development
Johnna White  Strategy Partner Imagine Deliver

Malik Mitchell  Strategy Partner Imagine Deliver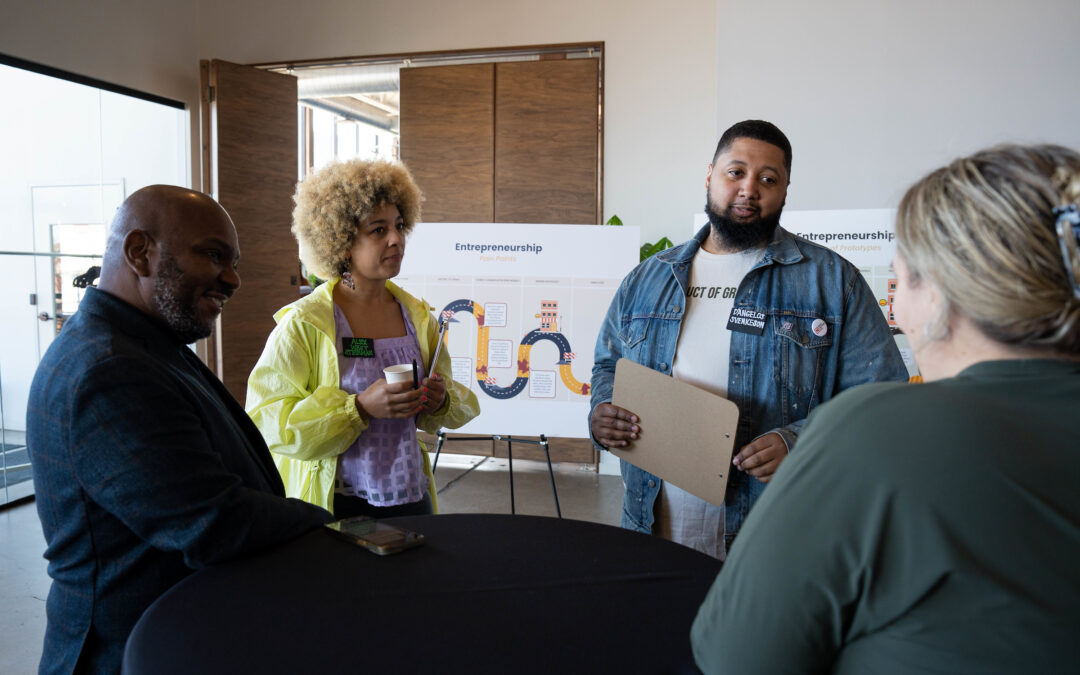 This summer, GroundBreak is beginning the work of building a shared, regional financial platform. By doing this, our region will be able to provide a reliable, long-term, and consistent source of financing for wealth builders in the region. We are excited to move this innovative platform forward to create a central hub for directing and scaling investments that can fund aspirations and shrink wealth gaps, for good.
read more