At GHR Foundation, we believe in the potential and power of community.  According to a 2023 report, Minnesota is the third most charitable state in the nation, has a rich legacy of corporate giving, and boasts one of the highest median incomes nationally.  And yet, we have one of the highest racial wealth and income gaps in the nation. The reality is that Black Minnesotans have historically been under-represented and under-resourced—often locked out and redlined from the economic fruits of a region ripe with resources.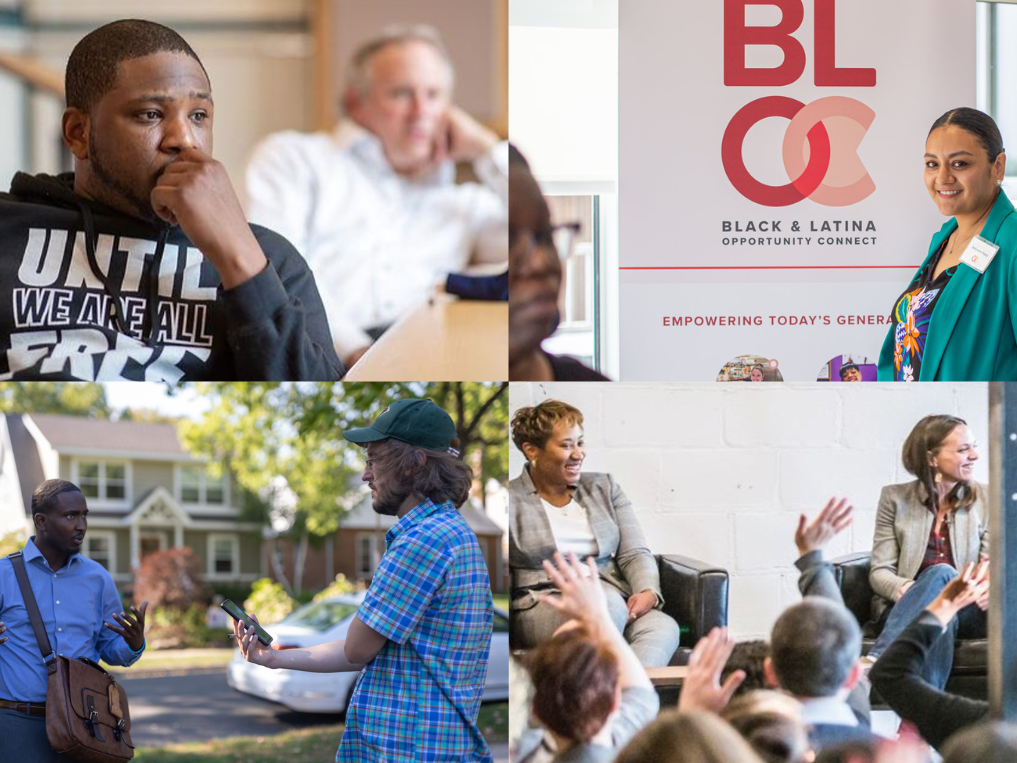 Transformative local organizations supported by GHR Foundation (left to right from top): The Legal Revolution, Neighborhood Development Center, Sahan Journal, Center for Economic Development.
GHR is committed to advancing racial equity in the Twin Cities and we have been intentional in making deeper investments locally. This has meant centering the Black community and communities who continue to experience systemic disparities as we look to create pathways to access and opportunity. Recent investments have supported local organizations creating a more inclusive and equitable region and economy, as well as community entrepreneurship with the University of St. Thomas. We're now looking at focusing resources at the intersection of racial equity and Catholic Schools in the Twin Cities by cultivating models of excellence for under-estimated scholars, such as innovations underway at the Catholic Academy housed at Ascension School in North Minneapolis.

We invite you to stand firm and determined with us at this historic time for action.  No organization can advance racial equity alone and GroundBreak Coalition offers a way to work together on bold solutions previously untried in our community.  With our commitment to GroundBreak over the next three years, GHR is continuing to expand on more than $15 million in investments made in the Twin Cities since 2020. This support mirrors how our foundation works with partners across our local, global, and biomedical domains—often providing early, flexible, multi-year funding that unleashes the limitless potential for good within partners and communities.
We are inspired by the developers, entrepreneurs, and small business owners seeking to create jobs and build wealth while having a positive community impact. For us, GroundBreak represents an ambitious opportunity to join others in creating access to financial capital, information, and relationships for Black and Brown communities.  Rather than endlessly debating what our region could do or should do for racial equity, GroundBreak's systematic approach to deploying capital at scale provides an on-ramp for every organization to act now.
We know that GroundBreak is about collective will and intentional action—key ingredients that give this initiative such promise. It is about taking a giant step forward to create the energy and momentum in this ecosystem, encouraging our philanthropic peers and the broader civic and corporate community to partner boldly in reimagining what's possible. By strategically investing in the people who live here and creating new systemic ways of operating together, we can begin to account for historic local policies and practices that extracted and limited wealth-building opportunities for Black and Brown communities. By leveraging our collective will and intentional action, we can together create a future that is more prosperous for all.
The GHR values inspired by our founders, Gerry and Henrietta Rauenhorst, offer us a way forward to navigate and adapt when necessary while remaining insistent to a new and inclusive narrative for the Twin Cities.  We are passionately joining the table set by our friends at GroundBreak and the McKnight Foundation to take on long-standing racial injustices with compassion and commitment. We urge partners in every sector to learn more about GroundBreak and the role institutions and private investors can play as we launch our community's next chapter in solidarity.
Learn more: Listen to the podcast episode, "Creating a racially equitable economy – Minnesota's GroundBreak Coalition," produced by the Harvard Kennedy School, and read the GroundBreak blog: Building a Shared Financial Platform: MSP's Key to Unlocking Capital at Scale.
About the author: Kevin Bennett is a senior program officer and racial equity lead at GHR Foundation and serves with CEO Amy Goldman on the GroundBreak Steering Committee.